New Administration at the Sherwood Park Outreach site!
Please come in and meet Joseph Clark [Joe] the New Principal for all the Outreaches and Karen Ramsey the new Assistant Principal for the Sherwood Park Outreach .
Registration 2018 - 2019
Interested in Next Step for the 2018 – 2019 School Year?
Come on in or Give us a call!
The Sherwood Park Outreach [SPO] is open M, T, Th, F from 8:30 AM to 4:00 PM; W from 8:30 AM to 1:00 PM.
If you are at a neighbouring EIPS high school and want to take a course you will need permission from your current school to come, so please check in with your Principal, Assistant Principal or Counselor before coming.
If you want to be a FULL TIME student at the outreach and are under 18 we will need a parent signature, so bring a parent or guardian.
If you are over 18 you can sign your own forms!
Come in and see our school and we will design a flexible program that suits you!
What's New at Next Step Sherwood Park
Sustainability Day at the U of A
Posted on

October 31st, 2016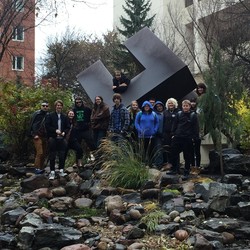 The Next Step Environmental Action Team (NEAT) and friends spent a fantastic day at the University of Alberta last week to learn about the U of A's efforts to create a sustainable campus and to increase our school's environmental action. As part of the the U of A's Sustainable Awareness Week, our students took a sustainability tour of the campus in the morning, and learned how to compost from the City of Edmonton's Master Composter, Mark Allen-Stumpf.  At the end of the day, Next Step school was the proud owner of two composting units, and received kudos from the University of Alberta Ambassadors for our sustainability efforts, including a community kitchen, community garden and our ongoing (and growing!) environmental group at the school.
Special thanks to Kerry Rose and staff from CMASTE, ConocoPhillips who supplied grant funds, the City of Edmonton, and Drew and Leah - (Ambassadors from the University of Alberta) for a great day!